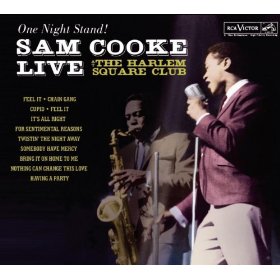 Fifty years ago today, on January 12, 1963, Sam Cooke performed in downtown Miami at the Harlem Square Club. The club was full of Cooke's fans, and Cooke delivered one of the great live performances, resulting in the album Live at the Harlem Square Club, 1963.
In his detailed biography of Sam Cooke, Dream Boogie: The Triumph of Sam Cooke
, Peter Guralnick described the Harlem Square Club as "a big barn of a building," and noted that it was early in the tour when Cooke performed at the Harlem Square Club. That night, the show included a late performance that went from 1 a.m. to 4 a.m. (p. 453.) Cooke used his live gospel background for his rousing performance, which contrasted with many of his pop hits played on radio. Guralnick writes, "There was nothing soft, measured, or polite about the Sam Cooke you saw at the Harlem Square Club."
The performance, however, was too much for the record company. RCA believed that the album would not attract the mainstream audience it wanted for Cooke. So the record was shelved and not released until 1985, long after the young singer's tragic death in December 1964.
The album is among my top few favorite albums, live or otherwise, and his performance of "Bring It On Home to Me" on the album jumps off the CD and makes you feel like you were there on that January Miami night as you ride through the slow 2-minute-plus build up to the release of the opening notes of the chorus.
NPR has an interesting interview with Greg Geller, the record executive who rediscovered the tapes of the show in 1985. But the best thing to do to mark the anniversary is to put on the album, close your eyes, and let Sam Cooke take you back to a time when you believed that music could not only change your life but could transform your soul.
What is your favorite track on "Live at the Harlem Square Club"? Leave your two cents in the comments.
(Some related Chimesfreedom posts.)