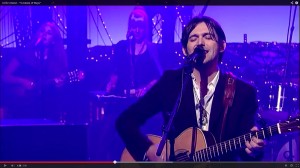 This week, singer-songwriter Conor Oberst appeared on Late Show with David Letterman and performed "Hundreds of Ways." The 34-year-old Oberst is backed up by the roots rock band Dawes on the catchy song with a bit of a country influence (even mentioning "Bakersfield"). The lyrics recount a vague personal journey, reminding the listener that life is not fair while presenting a more uplifting conclusion about getting through the day in the chorus. Check it out.
But there are hundreds of ways
To get through the days;
There are hundreds of ways,
Now you just find one.
"Hundreds of Ways" is from Upside Down Mountain
(2014), a solo album that Spin Magazine listed as one of the best CDs of the year so far. To listen to a recent full concert by Oberst and Dawes, head over to NPR, which has the audio for his July 27, 2014 performance with Dawes at the Newport Folk Festival in Newport, Rhode Island.
What do you think of "Hundreds of Ways"? Leave your two cents in the comments.
(Some related Chimesfreedom posts.)