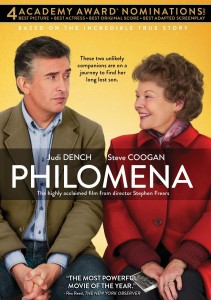 If you missed Philomena (2013) when it was in theaters, do not make the same mistake now that it is available on video. While the Academy Award Best-Picture nominee may not have garnered the attention of films like American Hustle, 12 Years a Slave, and Gravity, the relatively modest story of a woman searching for her child given up for adoption is one of the best films in recent years.
Philomena is based on the true story of Philomena Lee, played in the movie by Judi Dench, who after becoming pregnant as a young woman in Ireland in the 1950s, is sent to live at an abbey where the nuns give away her child. The movie, based on the book The Lost Child of Philomena
by journalist Martin Sixsmith, follows her quest many years later to find out what happened to the child. In the search, she engages the help of Sixsmith, played by Steve Coogan, who also co-wrote the screenplay and co-produced the movie. The movie follows this odd couple and their two different motivations to reach the same goal.
I do not want to tell more about the story in case you have not read about it or have forgotten what you heard when the movie was out. But the movie accomplishes the rare feat of making you laugh, cry, and think. Coogan, who is popular in the UK but a bit of an undiscovered talent in the U.S., has shown his great humor skills in other films (and his talent for imitating Michael Caine). Here, he brings a sense of humor to Philomena, while also maintaining a level of seriousness and respect for the subject.
In addition to the Oscar nomination for Best Picture, the film garnered nominations for Best Actress, Adapted Screenplay, and Original Score. The movie makes some minor dramatic changes from the book, such as making the book's author one of the main characters, but it does an excellent job of tracing the heart of the true story. For more on the real Philomena, check out this article from The Atlantic.
Conclusion? Philomena is not a blockbuster with a lot of action, but you likely will be delighted by this clever and touching film. Below is the trailer for the movie, although beware that it reveals some additional facts about the story.
What did you think of Philomena? Leave your two cents in the comments.
(Some related Chimesfreedom posts.)